Too Marvelous For Words – A Celebration of Nat King Cole starring Keith David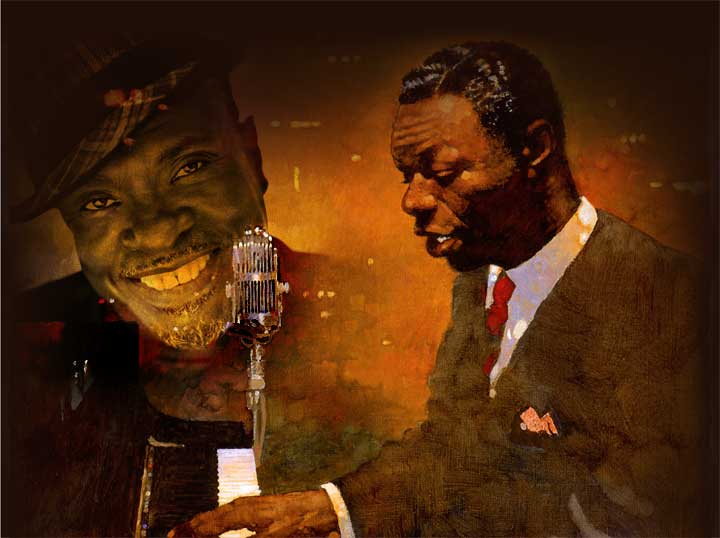 Featuring a full jazz group plus strings, "Too Marvelous For Words" is a joyful, swinging and theatrical journey into the music and life of one of America's greatest artists, Nat King Cole. During the course of the show, the real (and imagined) audience gets to experience the breadth of Cole's artistry, leaving the audience humming this wonderful music and ruminating on the many fascinating aspects of Nat's life.
KEITH DAVID (lead performer)
With over 150 film, television and stage credits to his name, Emmy Award-winning actor Keith David continues to exemplify the character of Hollywood's greatest actors with a humble ability to remain in demand, both on and off screen. In 2016, Keith David co-starred in the summer blockbuster, The Nice Guys, alongside Russell Crowe and Ryan Gosling, while simultaneously garnering accolades industry-wide for his portrayal of the title role of Bishop James Greenleaf on the Oprah Winfrey Network's hit drama, Greenleaf. In 2015, David wrapped the Carmine Cangialosi directed film American Dresser, in which he starred with Tom Berenger. He also starred in the 6th season of the hit show Community, followed by a recurring role in Big Time in Hollywood, Florida, Comedy Central's first serialized comedy produced by Ben Stiller. Previously, David starred in the irreverent Fox comedy Enlisted, for which he was nominated for a Critics Choice Award for Best Supporting Actor.
Some of his feature film roles include Oliver Stone's Academy Award- winning Platoon, Paul Haggis' Academy Award-winning Crash, as well as There's Something About Mary, Armageddon, Pitch Black, The Chronicles of Riddick, Requiem for a Dream, Mr. and Mrs. Smith and Barbershop. Noted for his deep, commanding voice, Keith is also an Emmy-winning voice over artist. He received his fourth Emmy nomination for Outstanding Narrator in Jackie Robinson, an acclaimed documentary by Ken Burns. Keith's strong working relationship with Ken Burns made him the narrative voice for four of Ken's epic documentaries. The segment, A Necessary War, from Burns' miniseries The War, earned David an Emmy Award to add to his first, previously won for Unforgivable Blackness: The Rise and Fall of Jack Johnson. The miniseries Jazz also earned David an Emmy nomination. Keith also lent his voice to Coraline and Disney's Princess and The Frog. As a native New Yorker, Mr. David has extensive stage experience and has studied voice and theater at the prestigious Juilliard School of Drama. In 1992, he earned a Tony Award nomination for Best Supporting Actor in a Musical for his role in the classic Broadway play Jelly's Last Jam. Other highlights of Keith's extensive stage resume include originating the lead role on Broadway in August Wilson's Seven Guitars and the revival of Mr. Wilson's Joe Turner's Come and Gone, directed by Phylicia Rashad. Keith David is also an accomplished singer/songwriter with his own band. Keith has performed across Europe, as well as Carnegie Hall. He is currently performing in jazz clubs and with symphonies and orchestras across the country.
ROBERT PERKINS (co-creator, drums)
A drummer well known for his versatility, Robert Perkins graduated with honors from the Thelonious Monk Institute of Jazz and earned a Master's Degree in Music from the University of Southern California. Throughout his education, Robert Perkins studied with such talents as Michael Carvin, Leon Ndugu Chancler, John Clayton, and Billy Higgins.
Professionally, Robert Perkins worked with the likes of Michael Bublé, Bobby Watson, Tierney Sutton, The Clayton Brothers, Vanessa Rubin, Ingrid Jensen, Toni Braxton, David Sancious, Wayne Shorter, Herbie Hancock, Terence Blanchard, Eric Reed, Mary Stallings, Chris Botti, Laura Pausini, Leon Parker, Clark Terry Jimmy Heath, Dr. Dre, Charlie Hunter, and Larry Williams.
Robert Perkins also found time to appear on The Tonight Show with Jay Leno, Late Night with David Letterman, The Today Show, Dancing with The Stars, Entertainment Tonight, Live with Regis and Kelly, The View, The Soul Train Lady of Soul Awards, Buena Fuente, The Parkinson Show, Wetten Dass..?, The San Remo Festival, The Des and Mel Show, and Pulse.
PETER SMITH (co-creator, arranger, musical director, piano, "Johnny Friendly")
Peter is an accomplished pianist, singer, arranger, and songwriter, and his career has flourished on both coasts. Originally a New Yorker, Peter has lived in Los Angeles since 2005. Peter is also musical director for Ty Taylor's project: "The Nouveau Mid Century Romance Songbook" (with Rob Perkins), which debuted at the Wallis in LA and is currently being mixed for a soon-to- be released album.
Peter had just started working with Natalie Cole as her primary accompanist (just prior to her passing), and he has been traveling the world as Molly Ringwald's pianist/MD, and served as co-producer and arranger on her Concord Records release: "Except Sometimes." He has played on major stages large and small: Iridium (NYC), Jazz Alley (Seattle), Yoshi's (SF), Blues Alley (DC), Montreal Jazz festival, Vector Arena (NZ), Melbourne Recital Centre (AUS), and many, many more.
Peter was the associate Musical Director on DUETS, the hit singing competition show on ABC. As associate musical director, Peter worked directly with Kelly Clarkson, Jennifer Nettles, Robin Thicke and John Legend, not only accompanying them and their contestants in rehearsal, but collaborating with them on the musical arrangements for the show.
In 2009, Peter released his debut jazz album: HERE IT COMES, which featured a mix of original material and standard repertoire. The musicians on the album are Allen Mezquida, Charles Owens, Trevor Ware, Clayton Cameron, and both Patrice Quinn and Molly Ringwald are featured vocalists. This album was well received, and he followed it up the following year with an ambitious live project: BLUES AT ALVAS. This recording branched out into some different repertoire (Otis Redding, Van Morrison, Leonard Cohen) as well as familiar standard material and Jazz originals.
Peter's composing career is merging with the Industry in Los Angeles, and his compositions can be heard on numerous TV shows (MINDY PROJECT, CSI, BENCHED, HOW TO LIVE WITH YOUR PARENTS, etc) as well as in commercials and in the films HOTEL NOIR, MYTH OF FINGERPRINTS, and BLEACHED. He has a growing repertoire of original pop/soul music, which is finding it's way in the singer/ songwriter rooms of Los Angeles as well as the hands of some major artists.
Peter attended Columbia University, majoring in literature but studying classical piano with Michael Skelly and entering an extended mentorship with Jazz great, pianist Mike LeDonne. Peter also was a DJ at the acclaimed radio station at Columbia, WKCR, where he interviewed many of the great pianists in New York and attended the "Jazz University" of historian Phil Schaap.
An accomplished actor as well, Peter's career has brought him many roles on the small screen in shows like "Law and Order," "24," "Scandal," "Weeds," "CSI," and many more. Peter has also performed on Broadway, Off-Broadway and Regional stages. Combining his experiences in acting and music, Peter has written a screenplay about jazz pianist Bill Evans during his time with Miles Davis. The script, "Blue in Green," has received much acclaim in the industry and is slowly inching it's way towards production.